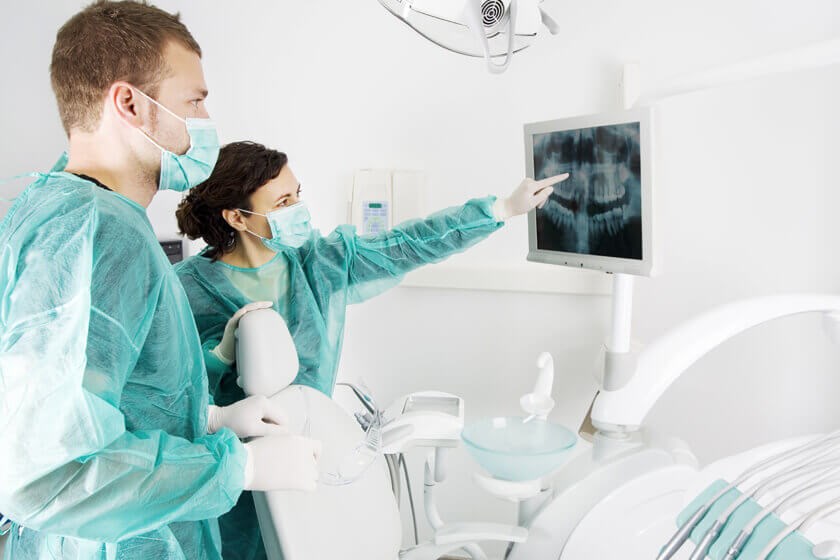 People who have lost one or two teeth aren't alone: Some people in Avon, OH could notice themselves struggling with oral health conditions that can bring about missing teeth. In fact, approximately 180 million U. S. citizens have experienced the loss of a single tooth or many. Missing even one of the natural teeth gives rise to negative effects that frequently impact your oral health and self-esteem. When teeth are extracted because of deterioration from advanced tooth decay, bone loss, or other oral issues, replacing them immediately will lead to the ideal situation regarding your smile and oral wellness. Dental implant restorations are, at present, the preferred solution for replacing permanent teeth thanks to their long-term wellness and visual benefits. Our team at DentalWorks - Avon have a great deal of technical experience with dental implant techniques. Our staff can help you learn about your preferred tooth replacement option to suit your individual concerns and cosmetic goals and whether implant dentistry is the right choice for your oral wellness.
THE GREATEST SOLUTION WHEN IT COMES TO RESTORING TEETH
Sought-after for their impressively life-like structure, dental implants are unlike most other tooth replacement options available today. Implant dentistry provides a wide scope of tooth replacement solutions and will restore anything from just one lost tooth to an entire arch. People who are aiming to switch from worn down tooth replacements to a more reliable option might be suitable candidates to receive this popular treatment. Many individuals are selecting dental implants to bring function, improved health, and cosmetic allure back to their teeth. Implants appear, feel, and act comparably to natural teeth. With features that closely echo those of natural teeth, it's unsurprising that implants are said to be the best option in tooth replacement.
AN INSIDE LOOK AT HOW DENTAL IMPLANTS FUNCTION
The carefully crafted design of dental implants echoes the structure of natural teeth. Dental implants utilize high-quality metal posts that serve as a manmade tooth root, as well as lifelike crowns that give proper structure and functional capabilities to the smile following the loss of teeth. During a period of 3 – 6 months, implant-supported restorations go through a fusion process where they bond with the bone mass and become a permanent component of the mouth. Implants merge with the bone to take the place of a tooth root for improved stability and exceptional support.
DENTAL IMPLANTS OFFER LONG-LASTING RESULTS
In regard to to replacing lost teeth, numerous men and women look for a solution that produces lasting outcomes. Implant-supported restorations are the sole tooth replacement method that merges with the jawbone like natural tooth roots. This process, called osseointegration, provides a solid structure, which allows oral crowns and bridges to stay fixed. The metal posts are won't deterioration and almost never need to be replaced. Therefore, a person could benefit from a full smile for many years to come. If dental implants are placed by a thoroughly talented dentist who uses contemporary techniques, this solution carries a nearly perfect success rate.
ENJOY HIGHER COSMETIC PERKS
An eye-catching aspect of dental implants is the seamless cosmetic attributes this tooth replacement solution gives to individuals. The staff at DentalWorks - Avon designs personalized implant-supported restorations that range in shape, size, and shade to blend naturally with surrounding teeth. Dental implants resemble and seem like natural teeth. Because of this, they're practically identical to real ones. Fixed restorations may also help individuals enjoy a pleasing jaw shape and eliminate the facial sagging that usually takes place when teeth are absent. Individual dental implants with crowns substitute single missing teeth. Meanwhile, fixed bridges and partial or full dentures are utilized to treat several teeth. In fact, patients should be aware that even an entire arch of missing teeth could be efficiently replaced with an appealing, full-arch denture.
FIXED RESTORATIONS COULD ELEVATE YOUR ENJOYMENT FROM LIFE
Selecting dental implants as a solution for tooth restoration may produce a number of improvements to overall way of life, most notably for people who have been suffering from missing teeth or have had decaying teeth for a long period of time. Since the metal screws are attached securely within the jawbone, dental implants can achieve an impressively consistent biting power. Fixed dentures, crowns, and bridges do not move, become loose, make noise, or slide: They also don't call for glue-based products to hold their place. Because implants are supported by a firm metal piece within the bone, these restorations can allow patients to bite, eat, and carry on conversation comfortably. Those who go with this option can have their favorite meals and smile with a new sense of self-assurance without having to dwell on the state of their overall wellness.
AM I A CANDIDATE FOR DENTAL IMPLANTS?
Implants are a popular treatment for people hoping to gain back their smile, quality of life, and oral health following the absence of permanent teeth. Implants are custom-made to reestablish the aesthetic appeal and function of your teeth. Although this option is well-suited for a number of patients, dental implants always call for adequate jawbone strength and healthy gum tissue to be successful. If jawbone regression or other circumstances are hindering you from being a good candidate for dental implants, our staff will often recommend specialized procedures to enhance the condition of your dental/oral wellness and promote an environment for favorable results.
If your general wellness has been hampered by lost teeth, dental implants may serve as a wonderful solution for tooth restoration. Our staff at DentalWorks - Avon is able to identify your personal concerns and assist you in figuring out if implant-supported restorations might be proper for your oral health. We encourage you to contact our Avon, OH practice so you can set out on the journey toward enjoying a better life.