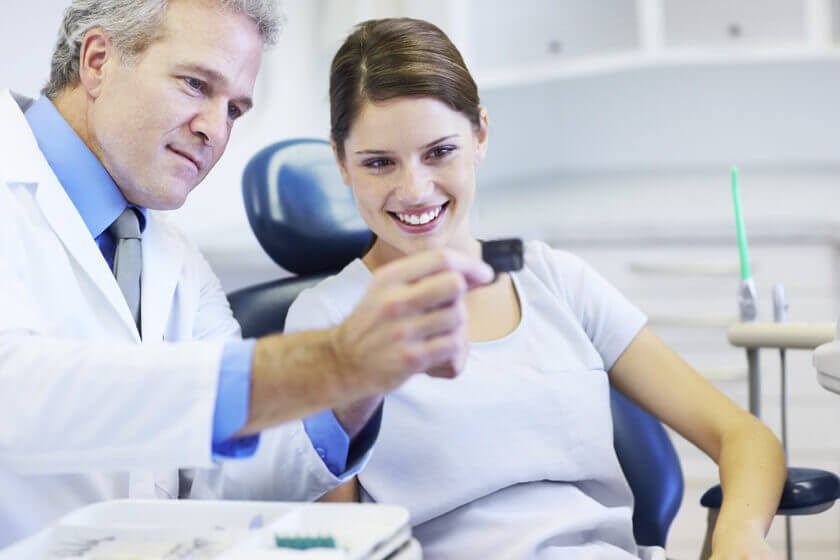 Achieving a healthy smile is certainly something most men and women want for each member of their family. Even though visiting the dentist may not be everyone's preferred commitment, keeping up the wellness of your family's teeth with the assistance of a skilled general dentist is critical to your total quality of life. Today's advancements in the oral care field, along with the way people now access treatment, have made it better than ever before to ensure that your teeth are in decent condition. Our general dentistry staff at DentalWorks - Avon welcomes you to discover the benefits you can receive when you seek out a general dentist for an enduring, healthy smile.

GUARANTEEING THAT YOUR ORAL HEALTH STAYS IN GREAT SHAPE
Much like a general care doctor for overall health, a general care dental professional is vital to help you attain and keep a clean, shining smile. Our general care dental professionals offer a varied range of procedures to fix dental issues, maintain the state of your teeth and gumline, as well as boost the overall visual look of your smile. To enhance your oral wellbeing and have your smile in top shape, our primary care dentists will often work with other specialists if some issues appear.

WHY IT'S IMPORTANT TO ATTEND APPOINTMENTS WITH A GENERAL DENTAL PRACTITIONER TWO TIMES EACH YEAR
Going to an experienced dentist for regular care and management for certain oral concerns is necessary for having the most ideal opportunity to show off a fresh smile. Our Avon, OH dental practitioners and their staff are excited to provide a diverse catalog of comprehensive dental treatments and rank your family's dental wellness as our top focus. Trusting our team will allow you to enjoy the best caliber of dental management, as you'll have access to diverse dentistry services that include:

Annual dental evaluations are an important part of dental care.
Yearly dental assessments allow us to receive a comprehensive look at your gumline, enamel, bite, jaw joints, and your other oral structures that play a role in a happy smile. During your consultations, oral cancer reviews are done to discern any possible regions that could be dangerous as soon as possible. Digital scans are administered so our dental professionals can analyze your jawbone support, tooth positioning, fillings, and various other restorations, and also scan for cavities in between teeth. Keeping up with regular oral checkups provides the additional benefit of being on top of any potential oral concerns and addressing issues before they produce a negative impact on your smile and wellness.

Routine dental cleanings help to keep your enamel clear of tartar and harmful bacteria.
If you arrange appointments at DentalWorks - Avon twice each year for in-depth dental cleanings, you might lessen the accumulation of plaque, harmful bacteria, and yellowing and relish in the benefits of a luminous, clean smile. Teeth cleanings entail plaque and buildup elimination, deep cleaning the teeth, and flossing between them for a renewed feeling. Beneficial dental health tips could also be discussed to help patients achieve a hygienic oral environment throughout the year.

Corrective care is needed for decayed or loose teeth.
Restorative dentistry also contributes in managing numerous areas of oral health. Decayed or broken teeth are addressed by our general dentists to strengthen their form and function through treatments like tooth-colored fillings, ceramic and porcelain crowns, or inlays and onlays. Bridges, dentures, and implants as tooth replacement options breathe new health, function, and beauty back into your smile if a few or many teeth are in need of replacement.

Our staff offers advanced solutions for each person in your household.
Developing a connection with our Avon, OH general dentists could help make sure that each adult, teen, and child in your family gets the highest quality of dental therapy when it's necessary. In addition to routine dental care and advanced services, comprehensive dentistry provides your loved ones a wide array of treatments to achieve your principal dental needs. Some of these procedures involve therapies for gum disease, sealants, and fluoride applications to safeguard your teeth against cavities, along with professionally crafted mouthguards to keep you and your family's smiles guarded when participating in sporting activities.

Innovative solutions for complex dental issues.
In many cases, having access to general oral care consists of services like root canals, bruxism therapy, clear teeth aligners, and tooth extractions. Our general dental professionals are the ones to go to when oral accidents put your dental health at risk. While DentalWorks - Avon strives to produce a welcoming atmosphere for every one of our patients, sedation dentistry services may also be provided to make going to your dental professional a smoother experience.

EARLY TREATMENT BRINGS ABOUT BETTER WELLNESS
Brushing and flossing your teeth every day are necessary to keep your gums, teeth, and other dental structures in their greatest condition, but at-home oral care is only a part of what's required to maintain great dental health. Getting effective oral management from an experienced team in Avon, OH who are dedicated to your and your family's smiles can make identifying and managing oral issues early on. This can and help you steer clear of greater treatment needs and expenses in the future. Periodontal disease, for instance, has been known to affect different aspects of physical health by raising the risks and severity of disorders like diabetes mellitus, cardiac disease, and memory loss. Getting the dental treatment you need will enhance your dental wellness and smile in the long run.

A GENERAL CARE DENTIST IS YOUR BEST PARTNER IN OPTIMAL ORAL WELLNESS
Choosing a primary care dental practitioner you can trust to improve your family's oral health is critical and along the same lines of finding the ideal general practitioner. From routine dental one-on-ones to more expansive solutions, general dentistry is definitely necessary to receive a beautiful, clean smile. At DentalWorks - Avon, our caring staff has years' worth of education in overall dentistry and is ready to help men, women, and children achieve a long future filled with healthy smiles. For those who are looking for a knowledgeable general dentist, talk to someone at our office today and arrange your consultation.