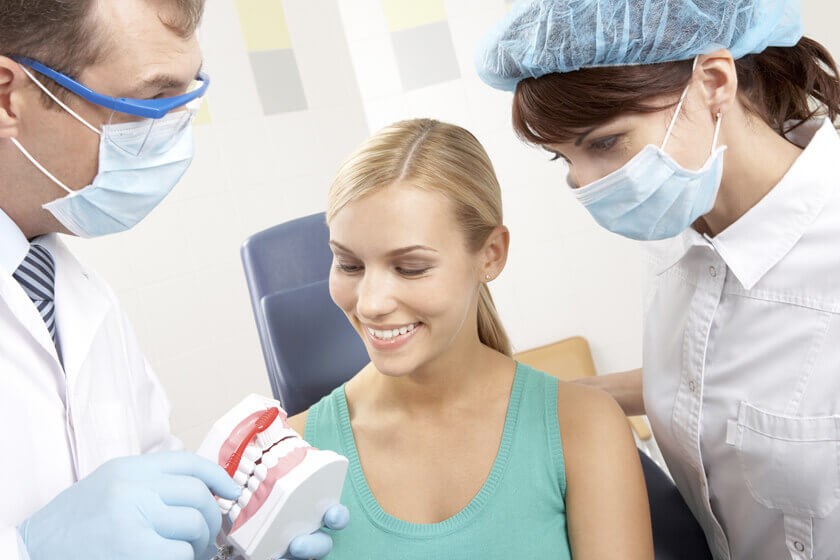 Sticking to a good schedule that consists of brushing and flossing each morning and night is crucial to ensure that your dental wellness is in its best possible standing. But what several patients don't know is that biannual cleanings from a dental hygienist are just as essential to your dental health. Regular teeth cleanings, sometimes known as prophylaxis, are a general dentistry service that eliminates buildup and polishes the teeth. Getting your teeth scaled and polished on a biannual schedule will often keep plaque, buildup, discoloration, and many other issues to a minimum. Removing plaque from the mouth can also get your teeth and gums into their best shape, as well as freshen your breath.

Seeing the dentist at least two times a year for teeth cleanings is a critical part of everyone's oral care regimen. Our experienced team of dental practitioners and hygienists uses modern approaches to perform general dental care treatments and improve the smiles and lives of Avon, OH adults and their families. If you need a biannual teeth cleaning or have other oral wellness problems, DentalWorks - Avon wants to be your go-to source for dental treatment. We encourage you to look through this online source so you can discover what things you need to know about biannual dental cleanings and the ways this commonplace dentistry service could benefit your smile, now and far into the long term.

WHAT DO PROFESSIONAL DENTAL CLEANING APPOINTMENTS CONSIST OF?
A biannual dental cleaning at DentalWorks - Avon will vary to address your particular oral requirements. Other preventive dentistry procedures might also be offered during a cleaning visit to allow you to receive optimized benefits following your meetings with your dentist. These other services might consist of dental sealants and fluoride applications. Teeth cleanings from our experienced Avon, OH team are comprehensive and intended to enable you to maintain your freshest smile.

At the beginning of your session, one of our hygienists will review your medical history
Avon, OH people are usually taken aback to find out that their oral health might have an impact on their total physical well-being. Before your teeth cleaning, your medical past, along with all medications or supplements that you take, will be carefully assessed. This often gives our staff a better understanding of your overall physical health and the ways it could relate to your dental standing.

Then, someone on our highly trained team will clean and polish your teeth.
The bulk of your teeth cleaning session will be devoted to removing plaque and buildup from your enamel. Plaque and buildup provide a home wherein harmful bacteria accumulate and release toxins that may ultimately affect certain oral structures, such as the teeth. The skilled professionals at DentalWorks - Avon can thoroughly scale the plaque and tartar from your enamel to enhance your oral wellness and reduce the chances of a number of problems, including enamel deterioration and gum disease. Discoloraton and stains that have built up on the teeth from caffeinated drinks or various other foods might also be buffed away for a lighter and cleaner appearance to your teeth.

Fluoride treatments will often be administered to kids or teens who are susceptible to tooth decay.
A fluoride application is a helpful option we perform to help fortify the teeth and guard them from the development of cavities. This product is often recommended for children, but it can also be useful for adolescents and adults who show symptoms of early-stage tooth decay, problems with cavities, exposed root surfaces, or other issues. To help those who may be at an increased risk for cavities, fluoride could be applied to the teeth toward the end of their teeth cleaning session.

HOW OFTEN SHOULD YOU GET A PROFESSIONAL TEETH CLEANING?
Routine dental cleanings are typically suggested about two times a year, but patients who have gum disease or various other dental conditions may benefit from cleanings more frequently. Our knowledgeable Avon, OH professionals will learn about your concerns and help you determine the teeth cleaning frequency that's appropriate to make sure your teeth and gumline are in their ideal shape.

PICK A DENTAL PRACTITIONER WHO'S COMMITTED TO THE WELL-BEING OF YOUR TEETH
The smile is easily one of a person's best attributes. Receiving biannual teeth cleanings is necessary to be sure that your smile is happy, cosmetically appealing, and in its best shape. To make this possible, it's critical that you pick a dentist who is just as dedicated to the health of your teeth as you are. Our team of dental practitioners at DentalWorks - Avon is dedicated to enhancing the lives of our many patients with a one-on-one approach to dental care. We invite you to get in touch with our Avon, OH practice soon and schedule a visit for a professional teeth cleaning.